Genetics and Magic In Breeding
I often theorize on how to breed successful cutting horses. Elaine Hall told me that all horses cost the same to breed, feed, shod, train and show etc. and the cheapest expense will be the actual horse. And she recommended buying the best mare I could afford and breed her to the best stallions. I want to breed for champions! There are innumerable variables that make proving a breeding technique a success. It will take six years for a breeding plan and resultant foal to grow and compete through the four year old derby competitions. A career can end with an injury, or more subtly by a decision to pair the right horse with the wrong trainer. Quarter Horses News publishes the top breeders and obviously those individuals know something worth tapping into to.
Federico Tesio was a top breeder of thoroughbreds. His book "Breeding the Racehorse" was published in 1958. He wrote, "besides the material contribution of rational feed, fresh air, freedom, and exercise which all make up the best conditions for raising a good athlete, I can see three factors which contribute to his development: 1) – inbreeding, 2) - "Nicks", or the almost constantly successful matching of certain bloodlines, 3) – Selection of the best quality of stock".
Inbreeding. "Although we cannot reduce the number of a horse's ancestors, we can select his parents in such a way that one particular ancestor will occupy more than one place in his pedigree, thus ensuring a greater probability that certain desired characteristics will be inherited. Inbreeding is the surest way of obtaining this result, by reducing the number of different ancestors and thereby making it easier to fix or establish their characters. In fact the best form of inbreeding from this point of view is that between twin brothers and sisters". In fact, when Tesio wrote his book he had calculated "so all thoroughbreds in the world today are directly descended from three stallions and about 42 mares".
Nicks. "It is an interesting fact that every now and again two particular strains are found to give their best results when crossed with each other. Generally, this is first discovered by chance, then other breeders follow up the initial success until that particular cross becomes the fashion." A current example is Metallic Cat X Sweet Abra. An older example is Doc Bar x Poco Lena who produced Doc Olena and Dry Doc - both NCHA Futurity Winners.
Selection "is the element which has made the greatest contribution to developing the breed of the thoroughbred. The simple peasant has always reasoned as follows: good with good gives good – bad with bad gives bad – good with bad gives half and half. Likewise breeders, as soon as they could do so, discarded the inferior horses and kept only the best for breeding. The winning horses were kept for breeding, the rest were discarded. Without ignoring it entirely, less attention was paid to the appearance of bone and muscles and more to the order of finish". Examples of Superior Matriarchs: Royal Blue Boon, Autumn Boon, Playboys Ruby, and The Smart Look. Another Superior Matriarch is Stylish Play Lena who produced siblings who were all successful: Hottish, Copperish, Smooth Talkin Style, Pepto Boom, Halreycious, Reydiculous, Reydioactive.
Immensely useful tools are available to help plan for breeding season. For line breeding, Equineline.com has a "five generation pedigree" option - click on creating a "hypothetical foal". Enter the sire and dam's names and the computer will create a quick summary of the resultant line breeding (see examples below). Nicks, or Magic Crosses, can be bought from the AQHA website. For Selection, I have been taught the mare must have LTE of $100,000 and then GET be worth $200,000 – the higher the better. It is interesting that The Smart Look did not have LTE anywhere near the $100,000 mark but produced many great stallions and mares. High Brow Cat barely had LTE over $100,000.
The Rasmussen Factor (RF) is a breeding technique involving using superior matriachs. It occurs when a horse can trace it's genetics to a common superior matriarch through different individuals, i.e. full or half siblings, within five generations (5x5 or closer). Thus the duplicate superior matriarch is traced to the horse via different individuals from the same dam.
For Example, Stunned (High Brow Cat x Absolutely Stunning)
X Smooth Autumn Blue (Smooth As A Cat x Autumn Boon) produced line breeding to High Brow Cat a 2x3 cross and Autumn Boon a 3x2 cross which doubles up on Tesio and Rasmussen's ideas of line breeding to superior pedigree through different individuals. The RF is to Autumn Boon/Royal Blue Boon. We are still waiting for the final LTE and GET of these rising stars which makes breeding the junior stallions and younger broodmares so exciting.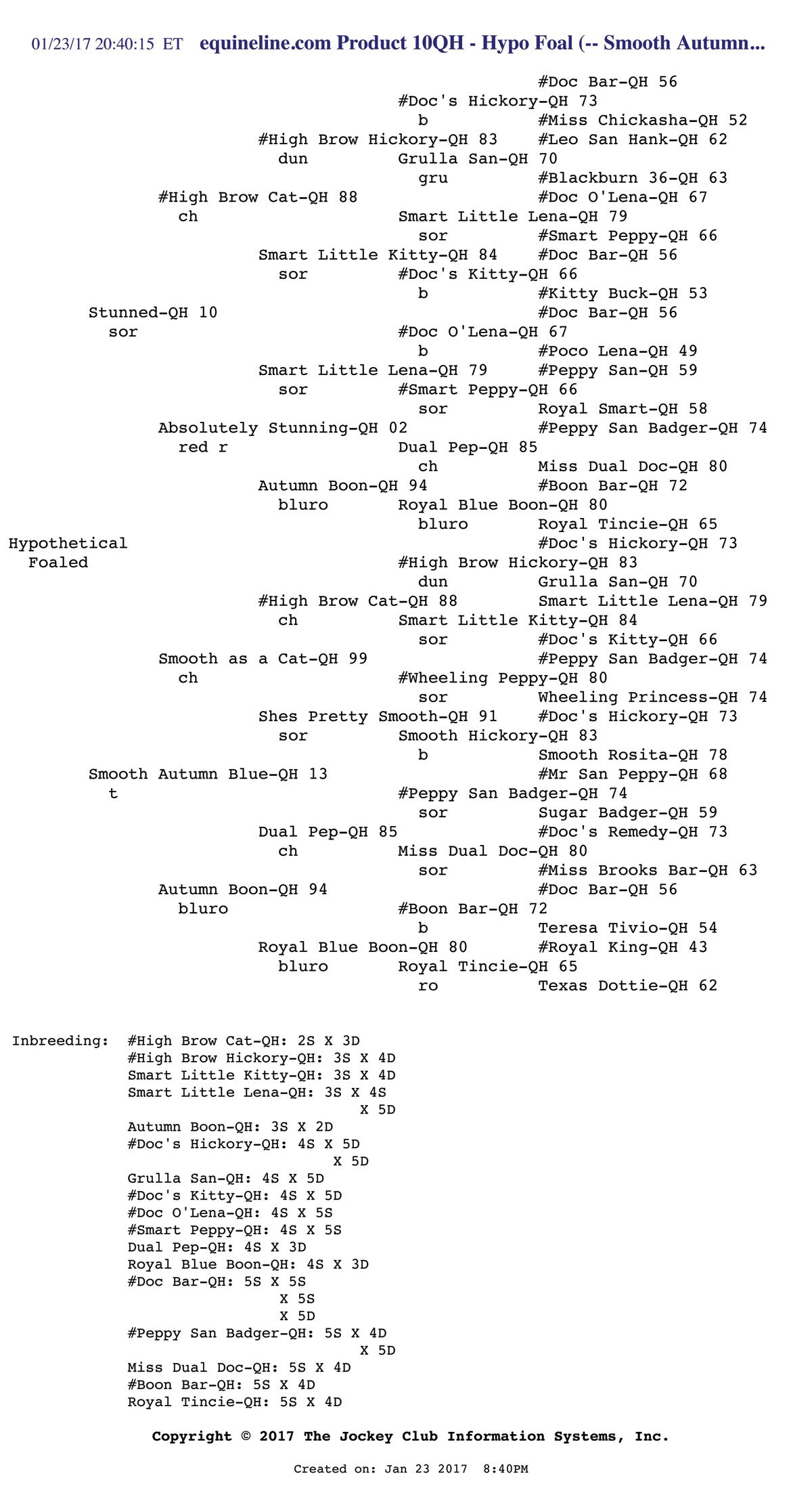 FORMULA ONE PATTERN RF
Is when the individual's sire and dam both descend in tail-female line to the same superior matriarch. For example, Hydrive Cat X Sweet Lil Ruby is another example of Tesio and Rasmussen's ideas. In particular, the Formula One pattern brings the genetics of Ruby Tuesday DNA, via the sire Hydrive Cat, together with the dam Sweet Little Ruby in a tail-female line. Furthermore, it is a 3x2 cross to Playboys Ruby. Of course, I wish Sweet Lil Ruby would have LTE of $100,000 and already GET worth $200,000 but it's still possible, like The Smart Look, for her to be a producer. This cross also has the additional benefit to cross 2x3 to High Brow Cat.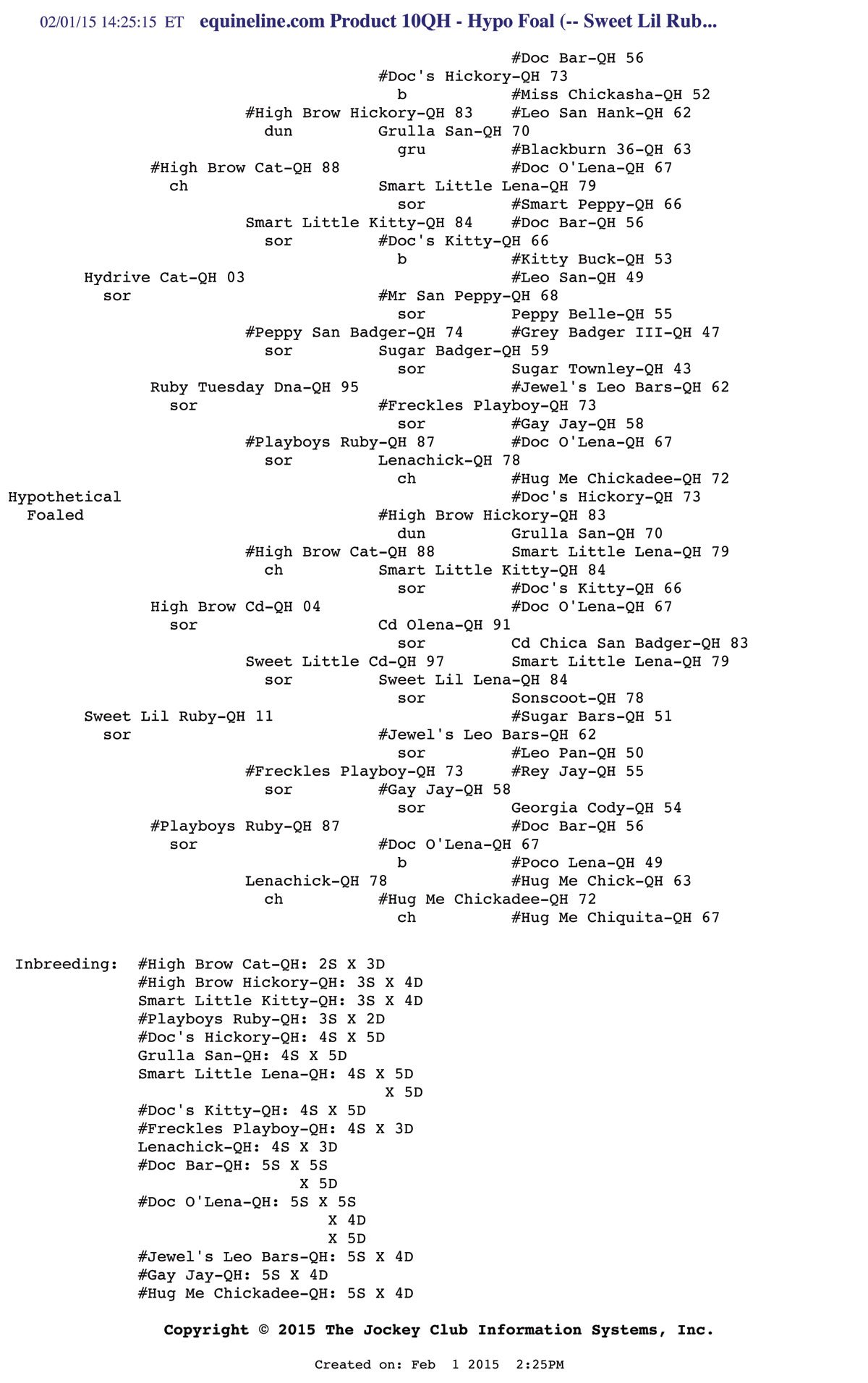 Another Formula One Pattern RF example and Smart Little Lena 2x3 cross Tesio line-breeding technique …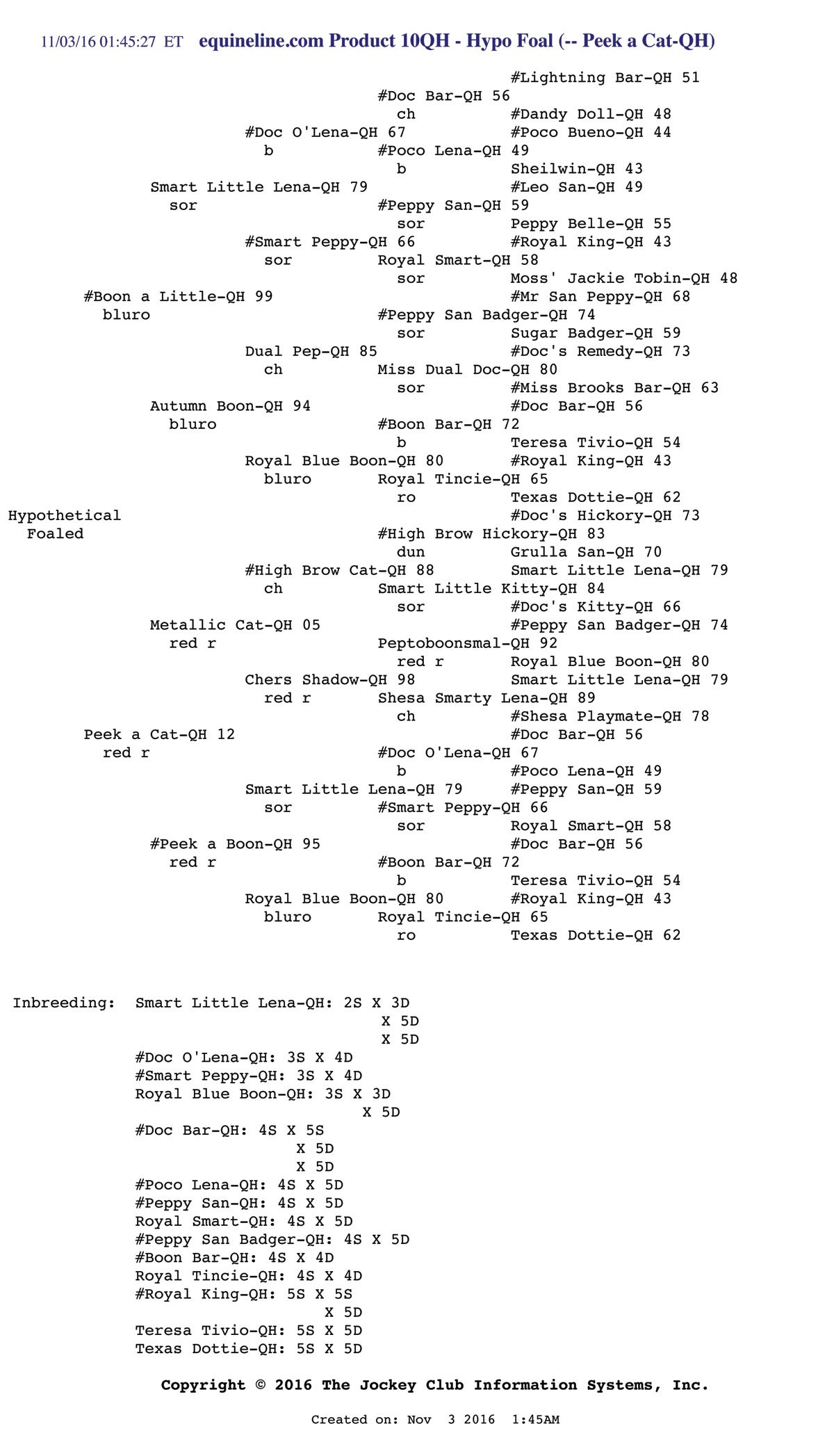 DELTA PATTERN RF
Is when a stallion has one of his tail-male descendants bred to a superior matriarch who can trace in tail-female to a full sister to that stallion. This cross has been difficult for me to find in the cutting horse industry. I have strategically purchased mares and stallions specifically to try this cross in the distant future. Below is a breeding I have done in 2017. Duals Blue Boon is a full brother to Autumn Boon. The market might not be as interested in these foals as I am.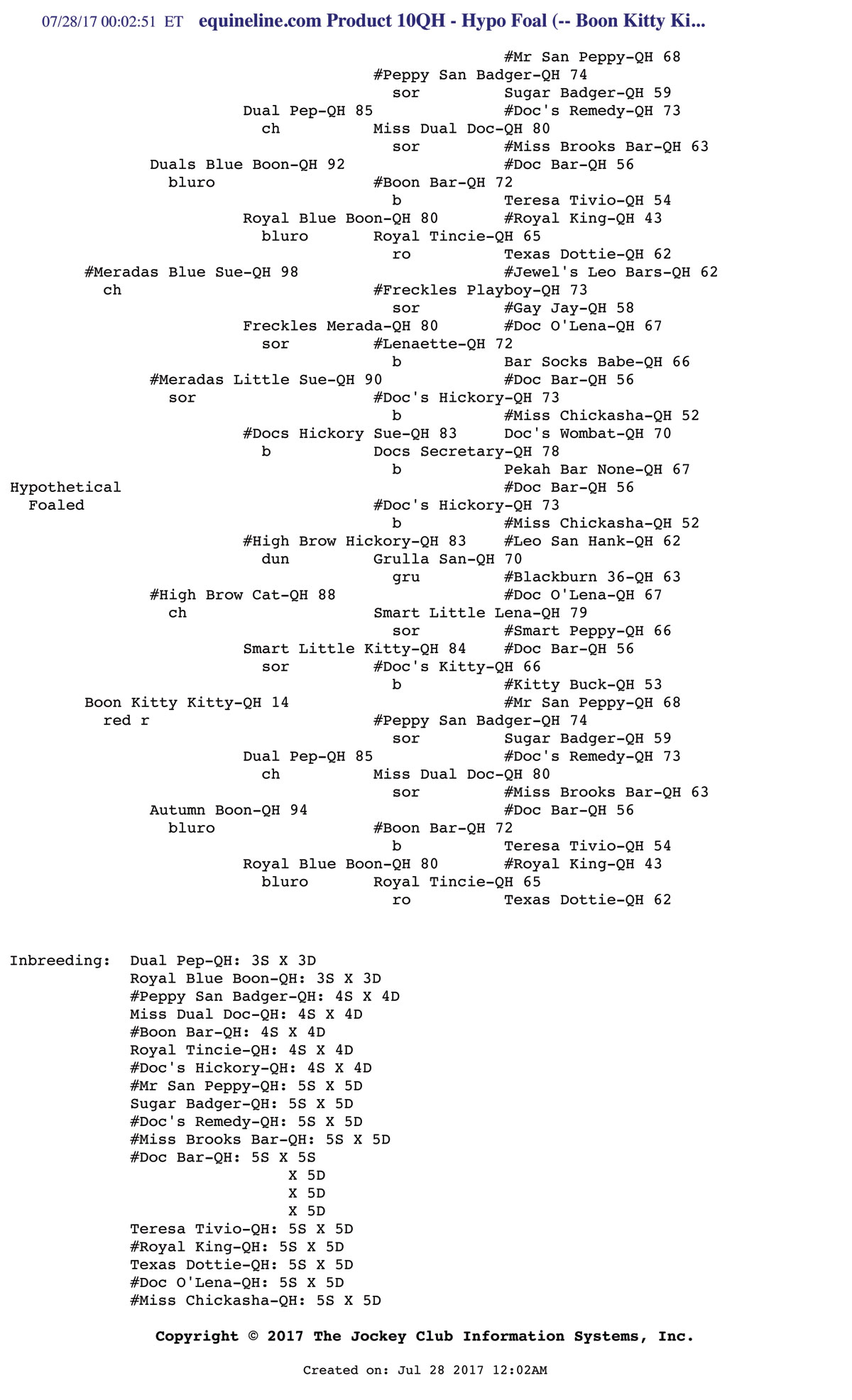 HYBRID VIGOR is when two matriarchial parentages are brought together into a foal. For example, Once In A Blu Boon X Ruby Duece brings together Royal Blue Boon and Playboys Ruby pedigrees.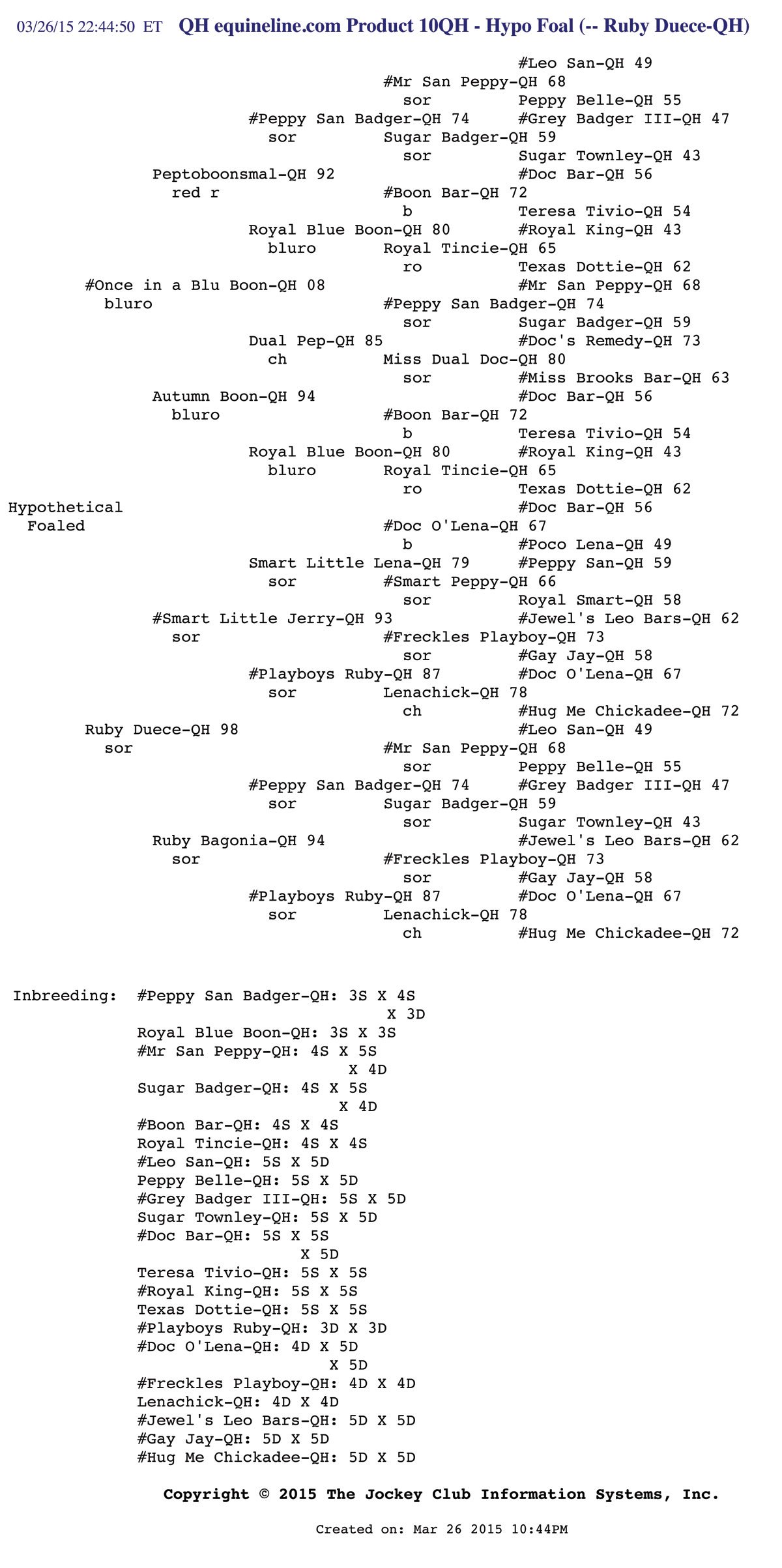 http://allaboutcutting.net/wp-content/uploads/2015/03/0809-Formula-One-Breeding-lores.pdf
---
Business Office/Mailing Address
Jeff and Griselda Neidhart
4144 Cristo Rey St
Farmington, NM 87401
505-947-6113