In The News
Neidhart Cutting Horses' innovative breeding program 3-11-15
THE FOUNDATION OF NEIDHART'S BREEDING PROGRAM IS BUILT ON LEGENDARY BLOODLINES
NEW FACILITY IN WEATHERFORD IS JAW DROPPING

By Glory Ann Kurtz
March 11, 2015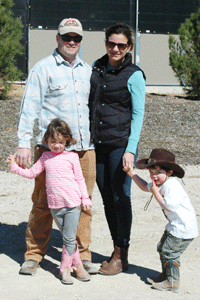 Look out cutters – there's a new kid in town.
Jeff Neidhart, who lives in Farmington, N.M., is a highly successful individual in several diversified fields. They include practicing oncology and hermatology at his clinic in Farmington, New Mexico, being a sixth-degree black belt in Ji Do Kwan Tae Kwon Do, as well as the founder and master instructor at his own non profit Traditional Tae Kwon Do Institute. He also owns the first commercial Pinon Pine Nut Farm in the United States, with over 5,000 pinon trees and also founded the Farmington Botanic Gardens that connect the River Beach Foundation River Walk to the city of Farmington Park and Recreation lands.
However, today, even though he is a physician, he has contracted the cutting disease and as a result owns some of the best broodmares in the industry that are being bred to the industry's top stallions. He also has moved to the second state of this disease: renaming his cutting horse program "Neidhart Cutting Horses" and building a horse facility outside of Weatherford that is an innovative state-of-the art and jaw-dropping sight.
In the beginning …
Jeff's father, Jim, and his brother David, grew up in Newton Falls, Ohio. Their farm was full of walnut trees and he and his brother farmed, rode horses, fished and hunted game birds on the family farm. David was an orthopedic surgeon and started a practice in Mankato, Minn. Jim and Jeff are both hermatologist/oncologists, with his father committing his professional career toward academic cancer patient care and research; first at The Ohio State University then MD Anderson/Comprehensive Center, followed by the University of New Mexico. » CLICK HERE TO READ COMPLETE ARTICLE ON 'ALL ABOUT CUTTING'.
---
Pro Trainer/Ranch Manager & Purchase Inquiries
David Stewart
1255 Ballard Road
Weatherford, Texas 76088
(405)818-4343
Dstewart1130@gmail.com
Business Office/Mailing Address
4144 Cristo Rey St
Farmington, NM 87401
505-947-6113
nchcutter@gmail.com